Expert Patient Advisory Group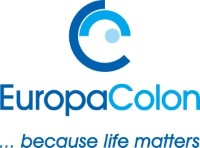 The Expert Patient Advisory Group (EPAG) was launched in Barcelona in July 2013 at Europa CCPC 2.

EPAG currently has the following members


Chair: Barbara Moss - Colorectal cancer survivor, EuropaColon Chair of Expert Patient Advisory Group. United Kingdom
Barbara worked as an English teacher for 30 years. At the age of 52, she was diagnosed with Stage IV colorectal cancer of the colon, spread to the liver. She underwent several treatments of conventional chemotherapy and was then treated with Avastin, at her request. This had such a dramatic effect on her tumour that it became resectable and changed her prognosis from only palliative to possible cure. She also overcame a recurrence of the disease in her lymph.
Barbara has since been an active campaigner for best treatment to be available for CRC patients and help them through her experience. She has also written a book called, 'Who's been Peeping in my Bed?' which tells her story.
She is Patient Ambassador for Europacolon and Bowel Cancer UK.
Barbaras CCPC 2013 Presentation

Maria Celeste Correia Ramos - Portugal
Maria Celeste Correia Ramos was diagnosed with Stage IV Colorectal cancer in December 2007. She was treated with radiotherapy and chemotherapy for 6 weeks to try to diminish the lesion so that she could be operated on

in May

.


The treatment had some success and, although painful,she endured it till the 14

th

May – the day of the operation.

After that she received another 7 months of adjuvant chemotherapy. Now she has periodical consultations - at the beginning every 3 months, extending to every 6 months in the fourth year and after that every 8 months.

C

eleste is

an English teacher in a secondary school in Portugal, still working with her 6 classes of students. She has always loved her work and that is why she doesn't want to think about retiring. She says, "When I became ill, Europacolon Portugal helped me a lot with psychology and nutrition consultations so, it was only fair to give back to others a little bit of what I received. That's why I didn't hesitate to say yes to being a member of EPAG, Europacolon when I was invited. I'm ready to help in any way I can".

Aysen Cevik - Turkey
Ayşen Çevik is a post-graduate at Ankara University's School of Physical Education and Sport.
She has been a swimming coach since 2002, and an adjunct lecturer at Hacettepe University since 2007, teaching disability sports, recreation in special groups, and community service.
She also works with various sports federations as a youth trainer in Youth In Action Programme, she has been lecturing for the last 4 years on topics like individuals with disabilities, sports, volunteering and PCM.
Çevik has been serving as a trainer and researcher for over 10 years in inclusive sports, and trainer education.
She was diagnosed with Rectum CA at the age of 32 - She has had radiotherapy, surgery and chemotherapy.

Wolfram Nolte - Colorectal Cancer Patient. GERMANY
Wolfram Nolte is 68, married and has one son and one granddaughter. He has been retired since the end of 2007 and had previously worked as an International Sales Manager in Industry. From the beginning of 2009 after being
diagnosed with colorectal cancer, he has had several cycles of chemotherapy.
He has had no further tumour manifestations since early 2012. He is currently active in the patient support groups: Family Support CRC. He is also associated to the international patient advocacy organisations: EuropaColon and Lynch Syndrome International

Dora Constantinides - Cyprus
Dora worked as part-time lecturer on Marketing, PR and Management Studies and was involved for a decade with The Cyprus Consumers' Association and the publishing of the first Good Food Guide of Cyprus.

At the age of 42 and with 3 children (11, 15 and 18) Dora was diagnosed with Dukes B Stage II (colorectal ca). She underwent major surgery, had a colostomy and soon after was elected municipal councilor for Nicosia, representing the newly formed Green Party, for 21/2 years. In April 1997 she joined PASYKAF (The Cyprus Association of Cancer Patients and Friends) on the Administrative Team. Together with her personal experience her work added to the spark for raising awareness on colorectal cancer issues involving all the parameters from prevention and early diagnosis to treatment and preserving patients their quality of life at all stages.

Today, Head of Awareness at PASYKAF and contact person for EuropaColon she is committed to the campaign for reducing the incidence and mortality rates due to particularly colorectal cancer."

Jolien Pon - Colorectal Cancer Survivor, The Netherlands

Jolien Pon is 70, married and has 3 sons, 1 grandson and 6 granddaughters. She worked in her own organisation, which offered multidisciplinary treatment for more than 20 years to obese persons . She retired in 2012.
In 2008 she was diagnosed with Stage III colorectal cancer, spread to the lymph nodes. She had two operations and 8 cycles of chemotherapy. Since 2010 Jolien is active in Darmkanker Nederland (Chair)

Marta Satler - Slovenia
Marta Satler worked at the Univesity of Ljubljana as a chemical engineer on research production, processing and the preparation of meat, and on practical exercises with students of food technology. After 35 years of work, she retired and she has been chief editor of the professional magazine, 'Meat and Meat Products' for 4 years.
In 2003, at the age of 58, she sufferied from Stage III bowel cancer. After surgery she received chemotherapy for 6 months and has been under medical observation for 6 years.
She is a member of Europacolon Slovenia and working as a volunteer at the Institute of Oncology for 7years.

Neil Howie - Serbia
Neil Howie is the Deputy Principal at an international school in Belgrade, Serbia. He is from England, where he started teaching, and he has also taught in Nigeria and Austria.
In January 2014, at the age of 45, he underwent surgery to remove a tumour and was diagnosed with Stage III bowel cancer. He underwent chemotherapy (FOLFOX4) for six months in Serbia.
Whilst still having to be regularly tested upon the end of his chemotherapy Neil began training for the London Marathon in 2015 (not having run for over 7 years), using this event to raise money for Europacolon, Bowel Cancer UK and the Serbian bowel cancer charity.
Objectives of the Group:
The key objectives of EPAG are to:
1. Review and create resources for patients to increase their involvement in their treatment and eventually move into advocacy to improve outcomes.
2. Determine the unmet needs of patients and translate this into information to enable patient organisations to better help patients.
3. Identify and comment on suitable prevention measures.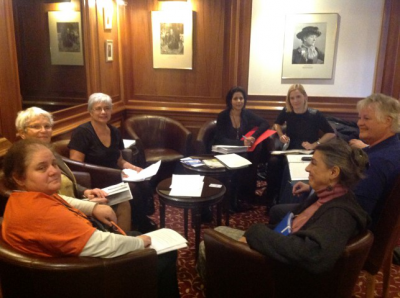 | | |
| --- | --- |
| 22nd - 23rd Nov 2013 | First Meeting held in London (pictured) Minutes |
| 9th Feb 2014 | Lisbon meeting. Agenda and Minutes |
---

Why RAS testing of your tumour is important
Modern medicine is changing fast, bringing changes to all areas, not only cancer. One new approach is making the treatment fit your needs, this is known as personalised medicine. Research shows that choosing a medicine to suit the biology of the patient causes fewer side effects and delivers better outcomes from the medicine.

Where ever you live, you need to check with your doctor that your tumour, removed during surgery, is tested for a biomarker before any medicine is prescribed.

Today, more and more cancer medicines have a biomarker, (short for biological markers). These show if a medicine will work against your particular cancer. Biomarkers can be produced by the tumour or by other tissues responding to the presence of a tumour in the body.

In colorectal cancer it is the RAS genes (KRAS and NRAS) that help doctors make treatment decisions. These tests should be routinely available in your country. If one of these markers is found in your tumour then your doctor will prescribe specific medicines to target and stop the cancer spreading. You should not have to take medicines that work less well.

Your doctor can explain these options to you once your tests are complete.

Here are some questions to ask your doctor:
Has my tumour been tested for RAS status?
If so, is my tumour RAS wild-type or RAS mutated?
If not, where and when will the testing be completed?
How will the results from the test affect my treatment?
What will my treatment options be?
---


If you are interested in more information about RAS testing please click the image below to see a new leaflet for patients


More information can be found at: www.mCRCbiomarkers.com


Patient diary
You can find the patient diary (Managing My Illness) by clicking the image below