About EuropaColon
Vision
A Europe with fewer citizens diagnosed with and dying from digestive cancers.
Mission
EuropaColon is committed to preventing deaths from colorectal cancer and digestive cancers and improving the quality of life and support for those affected by these diseases.
Goals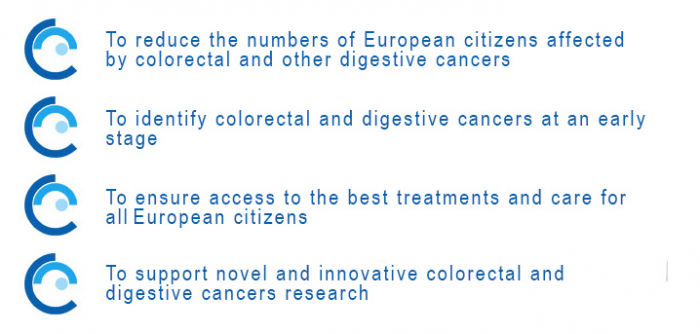 Positioning Statement
EuropaColon is the voice of colorectal cancer patients in Europe. Its aim is to save lives by bringing together all key stakeholders in the fight against this cancer which is highly treatable if diagnosed early. We are campaigning for formal population screening programmes and conformity to EU guidance and policies throughout Europe.
EuropaColon is working with its Affiliates and Associates to prioritise and raise the profile of digestive cancers in Europe. The aim is to promote and encourage increased awareness of the symptoms and prevention of these cancers.
The EuropaColon Constitution
Click here
to view the Constitution.
Working together with all parties

EuropaColon works with patients, carers, clinicians, the media, the citizens of Europe, governments and the European Commission to create an effective and powerful colorectal and digestive cancers community.
Annual Review 2017
Annual Review
Click here
to view the Annual Review 2016