Patient Rights
Europacolon strongly believes that all patients have rights, we also believe that patients should know what those rights are and most importantly, that they feel able to enforce those rights.
The Charter of Patients' Rights establishes 14 patients' rights currently at risk in all European countries due to the financial crisis of national welfare systems. These rights are grounded in the European Charter of Fundamental Rights and therefore must be protected at the national as well as the EU level. The Charter was developed by 15 national citizens' organisations.

EuropaColon would like to thank the Active Citizenship Network for their support.
www.activecitizenship.net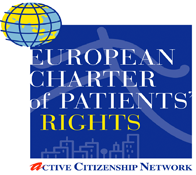 VIII European Patients' Rights Day

European Patient Rights

Patient's Rights Have no Borders
Framework
Patients want to access cross-border health services when treatment is not available in their home country, when it is managed better elsewhere, or, as in the case of many border areas, when the nearest available care is in another Member State. Currently, cross-border healthcare accounts for approximately 1% of the overall EU public health spending – around €10 billion per year.
The Directive 2011/24/EU on patients' rights in cross-border healthcare has been regarded by many as a major achievement of the 'patient empowerment' policy promoted by patient organizations as well as European institutions, granting European citizens the right to access healthcare services in a different Member State. Designed to address the obstacles deriving from the diversity of healthcare systems, such as the reimbursement rules and the delivery of health-care services, the "Cross-Border Healthcare Directive" has established a general legal framework aimed at maintaining the sustainability of health systems while protecting patients' right to seek treatment outside their home country.
According to the World Health Organization's report on 'Cross-Border Healthcare in Europe', the volume of patient mobility within the European Union remains relatively low as people are frequently unwilling to travel to other countries for care. On the other hand, where patient mobility exists, it has raised issues related to its impact for patients, health professionals and health systems.

Read more about this at http://www.activecitizenship.net/patients-rights/projects/208-patients-rights-have-no-borders.html
ECC Bill of Rights
The European Cancer Concord (ECC's) Bill of Rights, highlighting its successful launch in the European Parliament in Strasbourg on World Cancer Day can be
found here