Colorectal Cancer Patient Conference (CCPC) 2013
Your life, your responsibility
EuropaColon was delighted to have hosted the 2nd Colorectal Cancer Patient Conference (CCPC 2013) in Barcelona, Spain on the 5th and 6th July at the Hilton Diagonal Mar in conjunction with the 15th ESMO World Congress on Gastrointestinal Cancers.
The key objective of CCPC 2013 was to sustain EuropaColon's efforts to combat the disease across Europe, to engage, educate, inform and support colorectal cancer patients alongside all relevant stakeholders.

The title of this year's Conference was 'Your life, your responsibility' with the aim being to empower all stakeholders to take responsibility for their health and ensure compliance to their individual prescribed treatment pathway whilst being fully appraised of their rights within this process.

We are most grateful to the eminent group of speakers who gave inspiring presentations on all aspects of colorectal cancer treatment, prevention, awareness, genetics, policy and advocacy.

Also at the conference EuropaColon were proud to launch the first colorectal cancer Expert Patient Advisory Group Chaired by Barbara Moss, CRC Survivor and Patient Advocate. The group's key objectives are to:
To increase patient involvement on key decisions at government level
To empower patients to understand the importance of patient involvement in their treatment
To learn and understand how patient organisations can better help patients
We were pleased to see that delegates attended from all over Europe from Moscow to Macedonia, Turkey to Finland!

All attendees shared the same passion to improve the colorectal cancer patient experience and shared valuable experiences.
The loud and resounding message was clear - that patients must drive forward health policy, that without their involvement and views being considered, this will not succeed.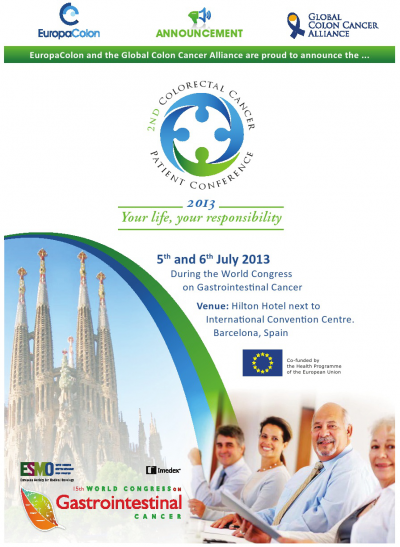 VENUE
Hilton Diagonal Mar Barcelona Hotel
Passeig del Taulat, 262-264
Feedback from CCPC 2011:
Following an evaluation questionnaire 88% of attendees said that would want to attend a second 

conference





•

 'Let me congratulate you for this excellent meeting' Prof Eric Van Cutsem, Medical Director – 

Europacolon





•

 'Congratulations for putting together such an impressive event – I felt so privileged to be a part of it and to hear so many 
 incredibly intelligent and inspiring people' Jill Miners, Wife of the late Dave Miners –


 CRC Patient





• 

'I would like to thank you for giving me the opportunity to participate at this historical meeting. 
 Perfect organisation and inspirational presentations' Dr Luc Colement Gastroenterologist



•

 'I really wish to congratulate for the enormous progress in your work – well done' Dr Alberto Costa,  
 Director, European School of Oncology


Read the 2011 Executive Summary here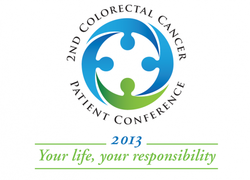 Click Here
to view our Conference Sponsors packs