Please view the latest news articles from across Europe below. Alternatively, filter by news category or search by keyword.
France Colons Events for ECCAM begin with Colon Day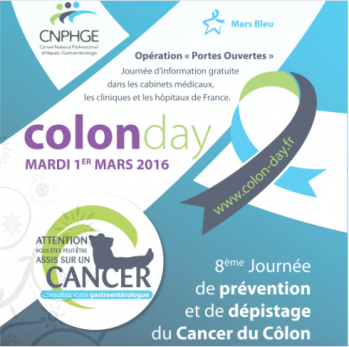 Tuesday, March 1, the gastroenterologists of France organised a free information day for those who wanted to ask questions about screening for colorectal cancer. Medical offices, clinics and hospitals were on hand to talk about all the questions from the public.
Over March 2016, France Colon will, as usual, organize or participate to a variety of events meant to promote CRC screening. Examples of these events are:
- a one-day CRC village in the center of Paris (Place Saint-Sulpice, March 12), 
- 3 nights at the movies (free screening of a popular French fiction movie about cancer, followed by a discussion with experts about CRC) in movie theaters in and around Paris (March 10, 17 and 31),
- the Colon Day (March 1) where 500 gastro-enterologists countrywide open their practice for free advice on CRC screening, 
- and various one-day events in all sorts of venues: malls, theaters, hospitals, etc. in and around Paris, Montpellier, Marseille, Lyon, Pontarlier, etc. 
 
In addition, we'll facilitate a CRC conference within the Roche headquarters (for employees, March 14). We will also relay a short movie produced with Roche which tries to break the taboo around CRC and promote CRC screening with humor and a small dose of dirty words…"