Colores (Finland) - The Finnish Colorectal Cancer Association
Colores is the only national colorectal cancer (CRC) association in Finland. There are nearly 20,000 colorectal cancer patients in the country and over 2,700 new cases are diagnosed every year. Sadly, the number of patients is expected to increase in the years to come. As a result of new progressive treatment methods, a large proportion of colorectal cancer patients recover. Survival rate after 5 years is over 60%.
Colores' target is to support patients and their relatives as well as offering information about the disease. The Association also offers face to face support in the form of monthly meetings in Helsinki and Turku.
When the disorder turns chronic, patients and their relatives experience an increased need for support. Colores trains its own support workers and they are ready to help CRC patients.
In order to fulfill its targets, The Association provides information, offers training, arranges various events and further follows up and promotes CRC related preventive work, research and topical updates.
Colores is also taking initiatives to improve the situation of colorectal cancer patients, to increase the amount of information available and delivers statements. In addition to patient members, the Board of Directors of Colores comprises the leading cancer care specialists in our country. The Chairman is Associate Professor Helena Isoniemi (HUCH).
Colores is organising yearly Colorectal Summit for medical and healthcare companies. Top professionals lectured and participated in "Meet the professors" panel and discussions
Colores have their own website found at
www.colores.fi
Summary of National Cancer Plan

Awareness:
Roadshow in Helsinki and Tampere with evening programme including lectures and information about colorectal cancer and Colores open to all citizens
Lobbying:
Participating in ESV Seminars (Parliament Cancer Network)

Participating in Finnish Cancer organisations Network meetings

The group is co-operating with 12 local cancer organisations in Finland

Colores is a member of the Finnish Cancer Association
Fundraising/Sponsorship:
Colores receives funding from RAY (Finland's Slot Machine Association)

Colores also receives funding from the Finnish Cancer Association

The Association has sponsor agreements with medical, healthcare and other companies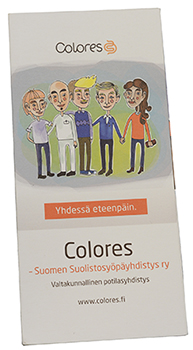 2009
Awareness

13-15 March 2009 - Weekend course to educate colorectal patients who were diagnosed two or more years ago, to become helpline support for new colorectal cancer patients.

Publishing the 'quide-book' for colorectal cancer patients.

Colores founder Prof. Inkeri Elomaa wrote her memoirs "Tartutoivoon, syöpälääkärin kädenjälki" Nov. 2009) as an oncologist for 35 years. She has been interviewed by the media many times with over 30 stories appearing in papers and magazines and in two TV programmes.

Sending and bringing Colores brochures and posters to health care stations and hospitals.

Organising clinical education days for doctors and other healthcare personnel who exam and treat colorectal patients in different hospitals and clinics during the colorectal patients "path".
Lobbying
24 February 2009 - Organising seminar about colorectal cancer to Finnish Parliament Members together with Parliaments Cancer Network in House of Parlament in Helsinki. Speakers: Colores board members: Prof. Seppo Pyrhönen and Prof. Jukka-Pekka Mecklin.

Inkeri Elomaa donated her book for every new Colores member during 15th November to 15th December 2009. The member recruiting doubled during the period.
Fundraising

Organising Colorectal Summit 2009 for medical and healthcare companies. Top professionals lectured and participated in "Meet the professors" panel and discussions. Companies paid for participation fees.