EuropaColon Latvia
EuropaColon Latvia was founded in 2012 with the aim to diminish the dramatic growth of the number of colorectal cancer cases in Latvia.

EuropaColon Latvia held a press conference on the 14th of March 2012 addressing the alarming situation for colorectal cancer patients in Latvia and the restricted access to standard chemotherapy drug treatments.

Awareness activities
2016 was very intensive for EuropaColon Latvia with a lot of lobbying activities with the aim improve the situation for Colorectal Cancer patients as well as other cancer patients in general. We have managed to gather 10 000 signatures to ask for additional 10 million EUR for oncology. The "green corridor" was established for first-time diagnosed patients - now all patients suspected on having cancer can schedule an appointment with a doctor or specialist within 10 days. Finally, we have entered into a dialog with Health Ministry and our Parliament and have participated in all discussions about oncology issues in Latvia.

First Pan-Baltic CRC Patients Conference organised in May 2013. Patient representatives as well as the medical professionals and politicians from Lithuania, Estonia and Latvia gathered in Riga for a day to discuss high colorectal cancer incidence, low screening up-take in some countries as well as disparities in treatment options across the region. The outcome of the conference was a memorandum asking for the improvement of the situation for colorectal cancer patients in the region as well as more action toward the prevention of the disease. Paralel to the conference EuropaColon Latvia is working on the advocacy issues, standing for the CRC treatment availability, sufficient health care availability and equal human rights implementation in Latvia - there are ongoing discussions with the Ministry of Health, the National Health Service and the Ombudsman office.

Development of cooperation with the private sector to implement awareness raising campaign on colorectal cancer issues nationwide

Work on educational and informative materials for the family doctors, patients and risk groups for colorectal cancer

Advocacy for the patients and their rights to have medical access and appropriate care. For 2013-2014 the target was to have the biological medicals available throught the compensatory medicals list as Latvia currently does not compensate them

To increase awareness of colorectal cancer screening necessity via local activities, projects and media relations

To represent the Latvia's patients and risk group interest in the international networks, institutions and organisations


More information about "EuropaColon Latvia" can be reached via webpage
www.europacolon-latvia.lv


EuropaColon Latvia's Youtube page can be found by clicking
here


Oncological Diseases Control Programme (Latvian)
Oncological Diseases Control Programme (English)
ECCAM 2015
You do not see. You do not hear. You do not speak.
"I do not want to hear about it", "I'm afraid to talk about it", "I do not like what I see so it's better to ignore what I see" and various other similar excuses, expressed sometimes not even verbally but in thoughts, characterises the public opinion regarding Colorectal Cancer (CRC) in Latvia. CRC is curable if detected at an early stage therefore people must start to recognise the health issues and pay more attention to prevention and symptoms in order to avoid it.
At the end of March various people in different areas of Riga were approached and greeted by a group of mimes. The mimes were carrying posters and distributing explanatory materials about CRC. They were marching, dancing and interacting with people in a friendly way.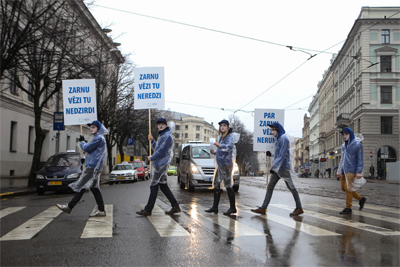 Why the mimes? Every mime has a personality with their own characteristic features, independent behaviour and world view. Just like each one of us, just like the patients of CRC, people from the risk groups...
Mimes representing the image of EuropaColon Latvia's activity also symbolises the anonymity and silence surrounding CRC problems in Latvia. People are not talking about CRC, people are not willing to hear and people are not willing to speak.
CRC is surrounded by different stigmas and stereotypes and its awareness in Latvia is extremely low.
The mimes were dressed in blue (the symbolic colour for Colorectal Cancer). They were carrying posters with the following statements: "You do not see colorectal cancer", "You do not hear colorectal cancer" and "You do not speak about the colorectal cancer". The message was provocatively designed to promote the thinking process – "I must see, I must talk, I must listen."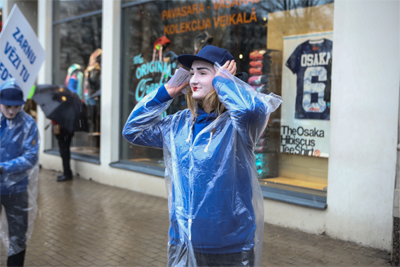 The mimes were distributing simple and clear printed informative memos that stated:
Be smart and act to protect yourself and your loved ones from CRC
. This was followed by a few facts: '
What you must know about CRC
' followed by the 5 suggestions how to live heathier.
People reacted positively towards the mimes and EuropaColon Latvia achieved their goal – To raise visibility of the issues of CRC in a non-traditional way.
Latvia is one of the few European countries where colorectal cancer screening rates are very low, and people are reluctant even to use state-funded screening opportunities. The number of patients diagnosed at stage III and IV is much higher than in any other European country. Outdated test methods, expensive treatment (no compensatory medicals for the CRC), ignorance of the different health problems, luck of the healthy lifestyle and many other causes are putting the CRC in one of the leading positions among the oncological diseases in Latvia.
Colorectal Cancer retains its place in oncological diseases, ranked in the top three of causes of death in Europe, but the statistics in Latvia are amongst the most alarming. According to the EUROCARE-5 data Latvia is one of five European countries where mortality rates from cancer are the highest. Along with Latvia in the top five there are the UK, Estonia, Lithuania, Bulgaria and Slovakia. Every year Colorectal Cancer takes about 700 lives in Latvia.
EuropaColon Latvia started the year with the preparations for ECCAM when the flash mob was organized, with mimes in the streets of the Latvian capital city. The mimes carried messages about the nature of CRC: It's silent, very often it's not visible and people are afraid or feeling shame to speak about it! The mimes distributed booklets on necessary preventive steps and invitation for citizens to use screening opportunities. Around 3'000 booklets were distributed. The activity got a good publicity in the national media.
EuropaColon Latvia is keeping close contact with national institutions that are part of the health care system in Latvia - Ministry of Health, National Health Service, Centre for Disease Prevention and Control and National Parliament. The organization is participating in working group for CRC screening and other local health policy initiatives. The parliament has formed a support group with the aim to solve oncological issues and it's supporting EuropaColon Latvia initiatives and activities.

EuropaColon Latvia became a part of association formed of nongovernmental organizations that is focusing on the solving of oncological problems, changing the perceptions of society and developing advocacy initiatives. First common initiative was to gather 10'000 signatures/support voices to enlarge the oncology state budget. At the moment, around 3'000 signatures have been collected. The forecast is that the rest of necessary voices will be collected until the beginning of summer 2016.
2014
ECCAM 2014
On the 19th of March 2014, EuropaColon Latvia organised an open discussion - conference for patients, health care specialists, civil servants and doctors about CRC trends and main issues in Latvia vs. other European countries.
The main speakers were:
Kristine Liepina, Chair of the Board of EuropaColon Latvia. Topics covered included main issues that CRC patients in Latvia are facing and how the situation looks like in the context of other EU countries - medication/ treatment availability, social care and rehabilitation, awareness and stigma existing. Potential solutions were presented as well.

Representatives from the MoH and National Health Service reported about the statistics, the activities that were already carried out and planned ones as 2015 will be the year of oncology in Latvia.

Patient Ombud, who talked about the patients' rights and their protection as well as equality of the rights in different EU countries.

Researcher Mrs. Shantare who explained screening issues and the importance of early diagnostics. She also presented very interesting research results about the screening.

Doctors (oncologists and surgeons) who explained the specifics of CRC treatment, surgery etc.

Patients presenting CRC issues from their perspective as CRC survivors.
A lot of work was done with the mass media with the aim to remind the general public about the issues surrounding CRC and trends. There were 3 interviews given and news spots in the leading Latvian TV stations. Three press releases were sent out as well. Now, the monitoring of the results is being done in order to better understand what was achieved.
A new film/clip "Patient Story 2014" was prepared. It is about a girl approximately 30 years old. She agreed to tell about her experience on living as a survivor. The story revolved around the stereotypes, stigmas existing in the society etc. Also it is about the lack of social and medical rehabilitation in Latvia.