Established in 2005 europacolon is the first European organisation dedicated to colorectal cancer (CRC) and it aims to unite patients, carers, healthcare professionals, politicians, the media and the public in the fight against the disease.

Over the past six years we have watched with great pride and respect those people who have dedicated their time and efforts to fighting the disease. Thanks to europacolon's Affiliate and Associate groups enormous advances have been made in: disseminating responsible CRC information; raising awareness of prevention and control of the disease and most importantly actively lobbying for access to best treatments and care. As an Organisation we feel the time is right to unite all key stakeholders working with CRC in Europe.

The europacolon team are proud to announce:
The 1st European Colorectal Cancer Patient Conference (CCPC)
The Power of Patient Voice – The Challenges, Collaboration and Change.
The conference is being held on Friday 24th June & Saturday 25th June 2011 at The World Congress on Gastrointestinal Cancer in Barcelona.

This bi-annual event has been established in consultation with medical experts and patients to appeal to all audiences. The Conference aims to attract attendees from across Europe however we warmly welcome interested parties from across the globe.

This first ever CRC Patient Conference aims to inspire and motivate all attendees to further commit to advocating for equal access to high quality prevention, diagnosis, treatment and care for all affected by colorectal cancer.

The Conference will build partnerships and create stronger involvement of civil society in political decision making. It will impact in raising awareness of the need of National Cancer Plans (NCPs) and formal population screening programmes. It is intended that the exchange of experience and good practice amongst all attendees will motivate and inspire increased advocacy and generate ACTION – The Power of Patient Voice.

Please click on the PATIENT CONFERENCE button in the main menu and register your interest in attending the first ever European Colorectal Cancer Patient Conference.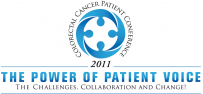 Just announced, the 1st European Colorectal Cancer Patient Conference, will be held Friday 24 June and Saturday 25 June 2011 in Barcelona. Please put the date in your diary and read more to register your interest.

THE INFLATABLE COLON is 2.4 metre high inflatable walk through replica of the human colon.
THE INFLATABLE COLON is available to PURCHASE or for HIRE.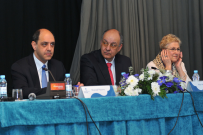 A full report of the europacolon screening workshop will follow shortly.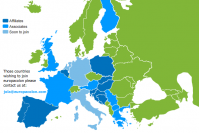 See the progress of our Affilliates and Associate groups and join our Colorectal Cancer Community.
Professor Sir Mike Richards (National Cancer Director UK) visiting europacolon's INFLATABLE COLON at the UK Cancer Care Congress 2010 with Julia Kennedy (Operations Director europacolon). View the report here.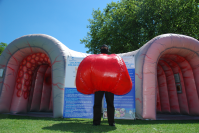 Visit our Gallery and see where we've been and what we've been doing!